Description
Chitin is the main component of the exoskeleton of insects, spiders and crustaceans and ensures, for example, that insect carapaces are both robust and flexible. A research group led by Prof. Sabine Laschat at the University of Stuttgart wants to use a water-based process to develop materials from chitin and its derivatives that are suitable for special applications in the construction industry, where they are expected to sustainably reduce energy consumption. The Carl Zeiss Foundation is funding the project with around two million euros as part of its "Perspectives" funding line.
The polymer chitin is widespread in nature and possesses fascinating mechanical and optical properties that would also like to be made technically useful. Chitin-based materials would be particularly attractive because they are hydrophobic and therefore, unlike cellulose-based materials, cannot absorb water, which makes them resistant to mold. In addition, they become fire-resistant through chemical modification, are mechanically very robust and, unlike synthetic polymers, are compostable.
However, the technical use of chitin is still in its infancy, as the polymer can so far only be modified (processed) in a solution with difficulty. Against this background, the project "Chitinfluid - Chitin as a resource for multifunctional materials via water-based complex fluids" aims to develop simple water-based processing of chitin and its derivatives into intelligent materials. These will initially be used in special applications in the construction sector, with the aim of curbing the enormous energy and resource consumption and high CO2 emissions in this industry. In addition, hybrid materials containing chitin are conceivable as photonic materials (e.g. as a substitute for effect pigments) or in fiber composites as a substitute for carbon fibers. The automotive industry and many other sectors could benefit from this.
more:
https://www.biooekonomie-bw.de/fachbeitrag/aktuell/chitin-fuer-nachhaltige-bau-und-werkstoffe
Team
Prof. Sabine Laschat (Spokesperson, Institute of Organic Chemistry): chemoenzymatic synthesis of organic functional molecules (ionic liquid crystals, carbohydrates)
Prof. Hanaa Dahy (Institute of Building Structures and Structural Design, ITKE): building materials, components development, sustainability
Prof. Harald Garrecht (Institute of Construction Materials & Materials Testing Institute, MPA): materials in civil and construction engineering, special concretes
Prof. Frank Giesselmann (Institute of Physical Chemistry, IPC): soft matter, lyotropic liquid crystals
Appl. Prof. Dr. Thomas Sottmann (IPC): complex fluids, production of porous bio-based materials.
Dr. Linus Stegbauer (Institute of Interfacial Process Engineering and Plasma Technology, IGVP): chemistry of bio-inspired structural materials.
Prof. Ingrid Weiss (Institute of Biomaterials and Biomolecular Systems): chitin biosynthesis & biomodification.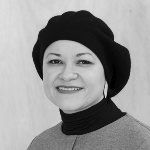 Hanaa Dahy
Assoc.-Prof. Dr.-Ing.
BioMat Department Director